As we plan ahead for a post-pandemic landscape, our homes will become definitive extensions of our lifestyles; here are the property trends to note if you're searching for a new abode
What is a dream home? The concept has undergone a significant evolution across the ages—from the Paleolithic era when it was simply a shelter from the elements to a place that reflects how far one has come in life. But in a world waking up to a new reality created by the Covid-19 pandemic, it appears to centre around the idea that dominated during the industrial revolution.

"Your home is your sanctuary" is a notion that will influence the post-pandemic landscape, according to Victoria Garrett, head of residential for Asia Pacific at real estate consultancy firm, Knight Frank. "Covid-19 has completely changed the way most of us view our homes—they now need to encompass many diverse atmospheres under one roof, becoming not only our places of rest but also our office, gym, and cinema," agrees Victoria Edwards, design director at the Singapore office of international interior architectural practice Wilson Associates.

Being cloistered from the outside world has also led to introspection. "The crisis created a moment for people to focus inwards on those nearest and dearest, and to simplify their lives," says Edwards.
1/7Location matters even more than before
People are going to get even more particular about where they want to live. Beyond considering how best to preserve their wealth, high-net-worth investors will also be evaluating appropriate means to protect their families.

"While in the past, wealthy clients sought to establish an alternative citizenship or residence in countries that provided the best access, resources and opportunities; now, some of them are considering coronavirus response and pandemic preparedness in general, among other criteria," says Dominic Volek, managing partner at Henley & Partners, which operates exclusively in the investment migration industry.
"As the curtain lifts, people will seek to move from poorly governed and ill-prepared places to more proactive countries with greater resilience and better standards of medical care." This behaviour pattern will help Singapore maintain its position as a migration hotspot in the Asia Pacific region.
On a micro level, the consideration would be proximity to amenities such as supermarkets, as well as easy access to close family—if not living with them—adds Jeremy Tay, director of homegrown studio Prestige Global Designs. "Location has been and still will be a very important consideration," says the interior designer.
2/7Working from home as the new normal
Telecommuting also looks set to become the norm. In a country where employers still value face time with their staff, companies are realising the associated benefits—and employees appreciate having greater freedom over their work hours and location. Considering that the average person in Singapore spends a minimum of 45 hours a week at work, eliminating a couple of hours a day on commuting lends a lot to work-life balance.

"The need for a larger area to carve out a proper workspace will be crucial as we spend more time working from home," says Larry Lim, managing partner of interior design firm Summerhaus D'zign. "Having a formal area for long periods of work, conferences and online meetings will be a ubiquitous requirement as opposed to doing occasional work with our laptops at the dining table or in the living room," he adds.
This is a trend that interior designers say has been on the rise in recent years, even before the pandemic. But Shermaine Ong, co-founder of local design firm MOW Interior feels that clients will give the concept more consideration now. "I think this effect will be here to stay; some of our clients have recently altered their designs to fit in a more formal workspace," she adds, recalling a recent renovation where the owners requested for specific demarcations of their open-plan space to create more intimate nooks, along with an integrated home-office.

But as Dora Chng, general manager of the residential segment at property management company GuocoLand, puts it, there is a marked shift in priorities. Prior to Covid-19, property buyers were more focused on aspects such as price, layout, tenure, location and the developer's track record. But now, with the work-from-home trend firmly settling in, buyers have started to focus a bit more on how the property will be able to accommodate the imminent changes in their lifestyle.
3/7Flexible spaces for work and play
As people spend longer hours at home, more homeowners will plan on maximising and improving the use of every square inch of their abodes. "We will see a shift towards more bespoke features as clients focus on customised cabinetry to ensure they appreciate the extended hours they are spending in their homes," says Tay. "Apart from having a home office, there will be a need for more built-in storage and a good, functional kitchen."

Edwards agrees: "Most of us, myself included, have gotten bitten by the cooking bug in recent months, and I see this translating in an increased demand for kitchens adjacent to dining spaces, where homecooks can create delectable dishes while entertaining their guests."
The emphasis will be on design and layouts that offer flexibility, as the trend moves further towards e-commerce and telecommuting. "For example, a dual-income family will now put a lot more thought into setting up a conducive workspace within the apartment or even two or more workspaces, when there are school-age children," adds Chng. An appropriate background for online meetings, a certain degree of isolation and soundproofing, especially for families with young children, will become common criteria, says Lim.

As adaptability becomes the winning hand, property developers may look towards making condominiums more self-sufficient and better suited to home-based working, says Garrett. Co-working spaces and business lounges overlooking the swimming pool and café areas—read: impressive backgrounds for Zoom calls—may become mainstays.
4/7Going online while property hunting
In a time marred by uncertainty, if anything has emerged a winner, it is technology. Property walk-throughs via video calls are now as commonplace as Internet banking, online shopping and self-service counters at supermarkets. Virtual reality (VR) technology is not new to the property industry; developers in Singapore have been using it to give online tours of their developments to prospective buyers for a few years now.

But it is not until the present time that it has become the only option available. Although the trend may soften as things return to normalcy, many homeowners may still opt for virtual viewings during the initial stages of their search. Smart-home upgrades will likely encompass the ability to coordinate services without requiring human contact. The increased demand for contactless home deliveries will make concierge services even more crucial and is a feature that developers such as GuocoLand already offer in some of their high-end properties.
5/7Creating personal amenities
In addition, some people may even choose to avoid using communal facilities altogether, and instead spend more time in their homes by investing in personal amenities such as a fitness room or entertainment den with cinema-like features.

"As we observe a move from shared facilities to personal ones, we will also see a rise in demand for zen-corners where homeowners can hit the mat for some yoga, or simply take a quiet break from the rest of the house," says Edwards. Amid the digital transformation that the pandemic has spurred, we cannot ignore the existential dialogue it has brought to the fore, which is a stronger argument for sustainability. "How we're living, how it looks in the next generation and what we're handing down are going to be key takeaways from the pandemic," says Garrett.
As homeowners move even further away from cookie-cutter features, they are also going to be looking at the long-term implications of their decisions. "As terrifying as Covid-19 has been, hearing of nature creeping back into our cities has been magical and should perhaps remind us to tread more lightly and make more room in our planning for wildlife," says Matthew Potter, director of UK architecture practice WilkinsonEyre's Asia office.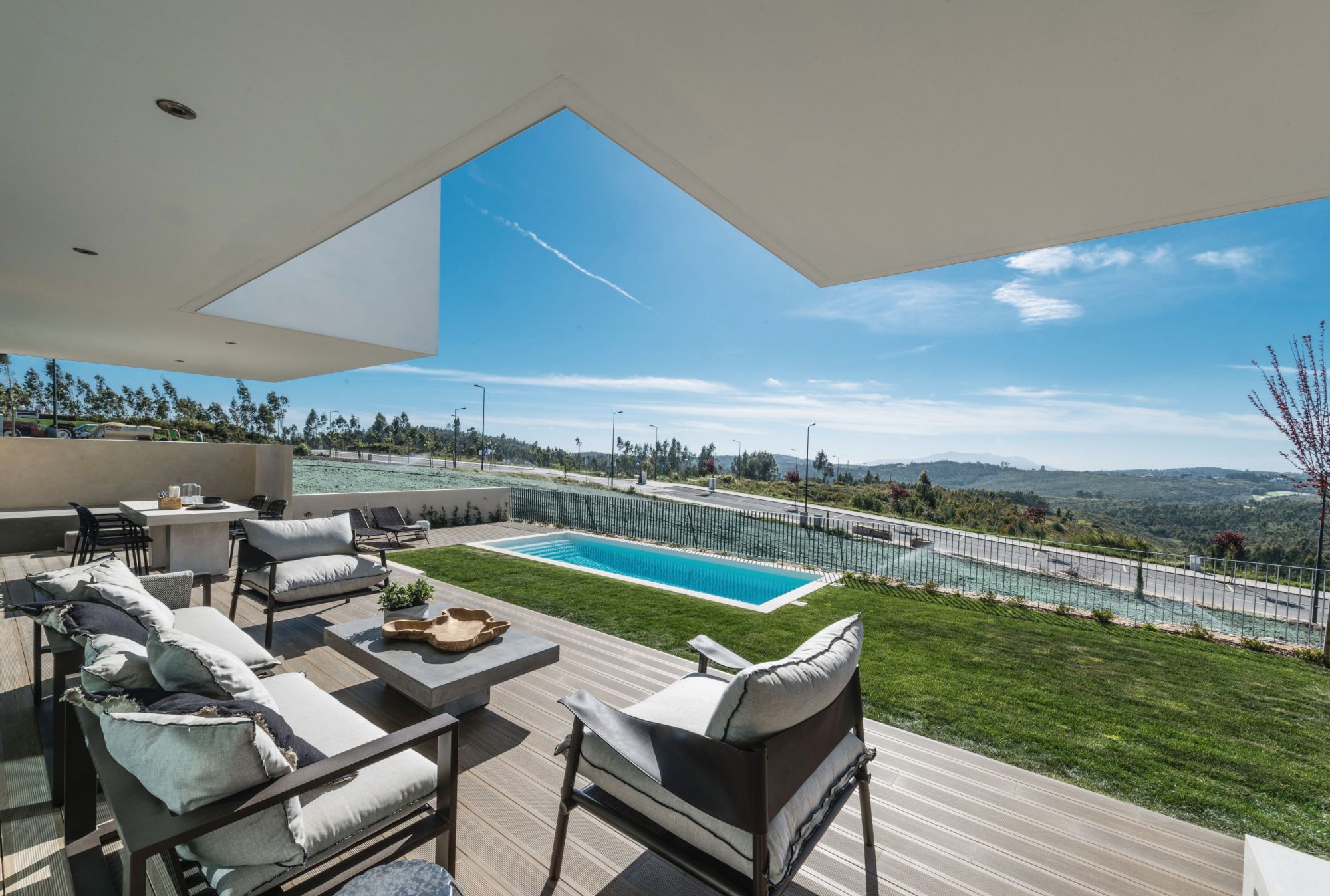 6/7Having a greener outlook
The presence of greenery and improving the flow of natural ventilation and daylight in houses and residential towers alike will be as significant—these elements make our homes more liveable and appealing, and have also been proven to improve our wellbeing. "Making sure we use natural daylight as much as possible should be a key objective," says Potter.

"Used in a controlled way, windows can be deployed without heat gain; you can see the change in light when clouds cross the sky as well as the position of the sun changing through the day."
7/7Looking out for short-term costs
Although this is not the first pandemic that Singapore has faced, it is possibly the first that has necessitated such strict measures and lockdowns. But the housing market will continue to move ahead, and developers will launch new properties.

"I think in the new normal, we may see design firms engaging more locally based contractors to avoid time delays in the event of further border closures, at least for the rest of this year," says Ong. Going forward, Lim also anticipates stricter rules in place for workers, including restrictions on the number of labourers and teams per construction project, which will stretch completion timelines—and costs may be passed on to consumers as a result.
Pre- or post-pandemic, that emotional, tactile connection we desire in our homes continues to be integral to the design process. Ultimately, designers and architects alike believe in the uplifting effect of design and how it can improve our lives, even in these unprecedented times.

"The power of beautiful spaces to affect our mood and behaviour remains unchanged—the challenge now is how we can incorporate a layer of post-pandemic practicality so that people will continue to feel comfortable and enthused in the spaces we create," says Edwards.
Article Source: Tatler Philippines
This article is originally posted on Tatler Philippines Website (Article and Image sources).